General Etiquette
Hold a the door open for a few extra seconds.
Express your gratitude for what is too often taken for granted.
Encourage
Never fail to offer the easiest and best seat in the room to an invalid, an elderly person, or a lady.
Never accept of favors and hospitality without rendering an exchange of civilities when opportunity offers.
Never fail to say kind and encouraging words to those whom you meet in distress. Your kindness may lift them out of their despair.
Never refuse to receive an apology. You may not receive friendship, but courtesy will require, when an apology is offered, that you accept it.
Never fail to speak kindly. If a merchant, and you address your clerk; if an overseer, and you address your workman; if in any position where you exercise authority, you show yourself to be a gentleman by your pleasant mode of address.
Never attempt to convey the impression that you are a genius, by imitating the faults of distinguished men. Because certain great men were poor penmen, wore long hair, or had other peculiarities, it does not follow that you will be great by imitating their eccentricities.
Hop to your feet whenever a woman enters a room where you are sitting, and stand on them until she sits or goes. An old school gentleman never sits unless and until all women in the room are also sitting; and then, unless he is in his own house, he sits only on invitation.
You should still relieve her of heavy things. No matter what she says or how much she meant it, you gotta stand while she stands. "Don't bother—I can manage." She probably can, but if you stand by while she does it all herself, and it is a struggle for her, you're going to look pretty silly to people who haven't heard her protests.
If you're in a group and you are sharing a funny picture or joke written on your phone, pass it to everyone, not just 1 or 2 people.
A gentleman always carries a handkerchief, and is ready to lend it, especially to a weeping lady, should the need arise.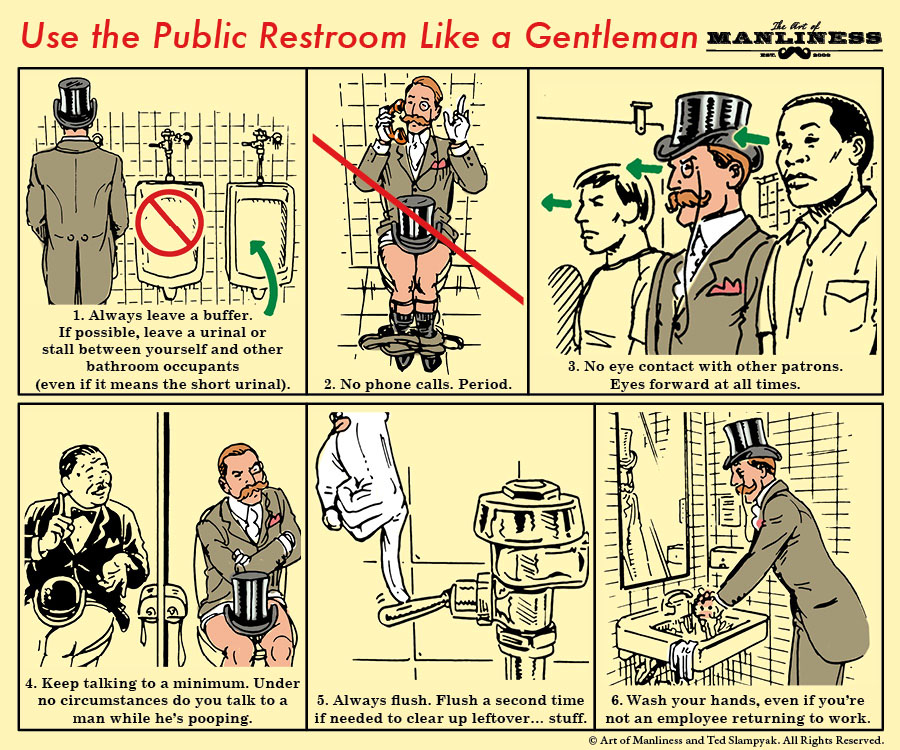 ---
Digital Etiquette
If you post a question on a forum, then find the answer, it is common courtesy to post the answer in said forum for future reference.
When someone hands you their phone to see a photo, do not swipe left/right. If you're handing someone your cell to see a photo, zoom in a little first.
Don't watch what other people are doing on the computer, its bad manners to sneak behind someone and stare like if you are judging.
Write every email as though it may be forwarded to the person who you'd least like to see it.